What is the first thing that comes to mind when you hear the words "business process automation?" For most people, it's a large company or corporation.
But business processes exist in small and medium companies as well, and many of them can be automated. We have already discussed the benefits of automation, from cost savings to better client engagement. Now let us come over to your business virtually and find 25 (no less!) processes you can easily automate.
Lead Generation and Processing
In business, the number of clients is never constant. It always decreases over time. If you don't get new leads, you die. Nowadays, people do not want to wait long, so a quick reaction to the request is very important. Automate all repetitive processes to gain and process leads more efficiently.
1. Respond Immediately
When a client sends a contact email through your website, he or she is willing to wait 30 minutes on average. You have to respond to contact emails quickly!
You can hire an operator (or operators) and manage them to operate perfectly 24\7, or you can set up automatic responses.
It is easy: create a preformatted template with email text, like this:
Hi, [First Name]! We just received your request from the site [Your Site Name]. Thank you for contacting us. Our managers will contact you shortly.
2. Assign a task
A good reaction to a new business request is to make a call. An excellent reaction is to create a task in the system to start saving the history of this lead: name, first contact date, request, time of response, and so on.
So, you can set up your automation software as the following: it sends an automated first contact email to the lead, creates a task in a system and assigns it to the sales manager.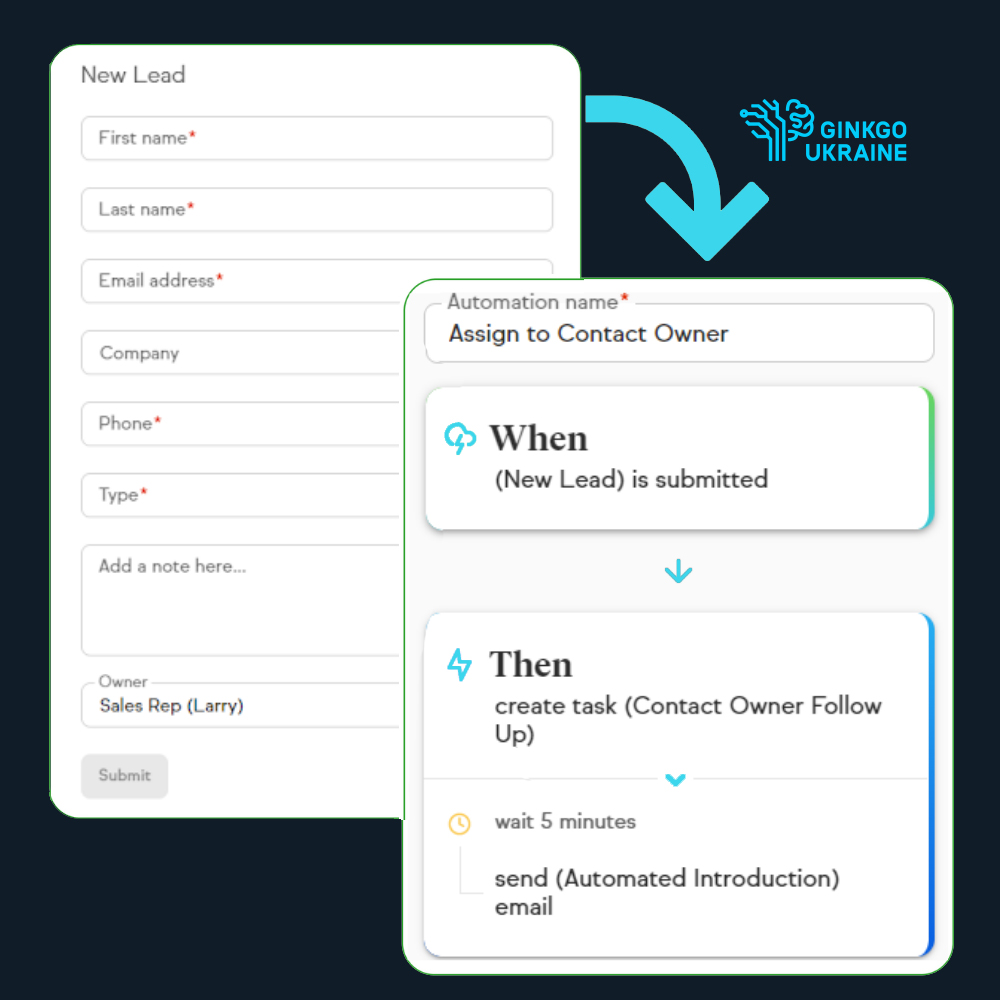 Additional advice: if your business requires communication with a client, you can automatically suggest a time slot for a call or share an online calendar with the available time slots.
3. Call Back with a Reminder
When you run a small business, you often have no time to even sit down, so it is easy to miss a call from a potential client. You have to call back, and remember to do this ASAP.
If you automate this process, you will get reminders to call a lead back. Of course, this is a minor thing – but you should not miss the lead at this stage.

4. Follow up Automatically
Several days after the first contact, you can barely remember the conversation details. Even if the lead acquisition goes flawlessly, the contact can be lost – just because of a long pause. An automatic follow-up can fill this gap and engage more potential clients.
For example, at a professional conference, you networked with several potential leads. Save the names and emails in CRM systems and create a preformatted letter template like this:
Hi, [Name, Last Name]! It was a pleasure to meet you at [Conference Name]. If my services can help you, I would like to continue communication.

5. Offer Free Content
Even billionaires love getting something for free. Offer a piece of useful content – an eBook, an instruction, a checklist – that can help your client solve a problem. First, you can get the lead's contact via the attached form. Second, you demonstrate your expertise in this field and readiness to share. This is a good "touch" for your audience – even if people are not ready to buy yet, they will remember you or your brand.
Of course, this process should be automated.
Additional advice: some automation software can collect the information if the content was requested, or a lead just submitted a form and never came back. It helps to evaluate the effectiveness of a lead magnet.
Sales
Sales is an ocean of small and large processes. Some of them are repetitive and can be easily automated. Here are some hints.
6. Split Your Sales Pipeline into Stages
With automation software, you can split the sales pipeline into several stages and improve general sales management. Sales reps will move from one stage to another without losing the way.
The basic stages are: new opportunity, contact, engagement and a qualified lead. Each interaction between the sales rep and potential customer helps move a lead to the next stage – or drop it out as lost.
7. Score Your Leads
Here is a point where automation software can perform miracles. The magic is in the activity tracking. The software can track users' interaction with your marketing content – opened emails, time on the site, clicks and reactions. It'll find your hottest leads, who are really interested in your products.
You can focus on the potential clients who are ready to buy but do not forget about others, who are still thinking.
8. Engage Warm Leads
People are usually not ready to buy immediately. They need some time to think and make a decision. So, working with warm leads – people who are interested but not ready to buy – is also essential. Using the automation software, you can gently push them from time to time – with reminders, newsletters and other interactions.
9. Welcome a New Client
Let people know you are glad to have them as clients. Send a welcome letter, show your hot propositions, and offer something useful – for example, a discount or free delivery.
Additional advice: add links to FAQ sections, a support request form and social media – everything your client might need. It will not take much time once automated.
10. Invite Clients to Buy Again
You cannot track each customer manually unless you run a really small business. However, the software can do it for you. If your client purchases products that should be replenished, why not invite them to buy again? Most of the sales are not a one-time event, your client will need more. Help them organize their purchases with the invitation, like this:
Hi [Name]! It seems your supply is running low. Do you want to place another order?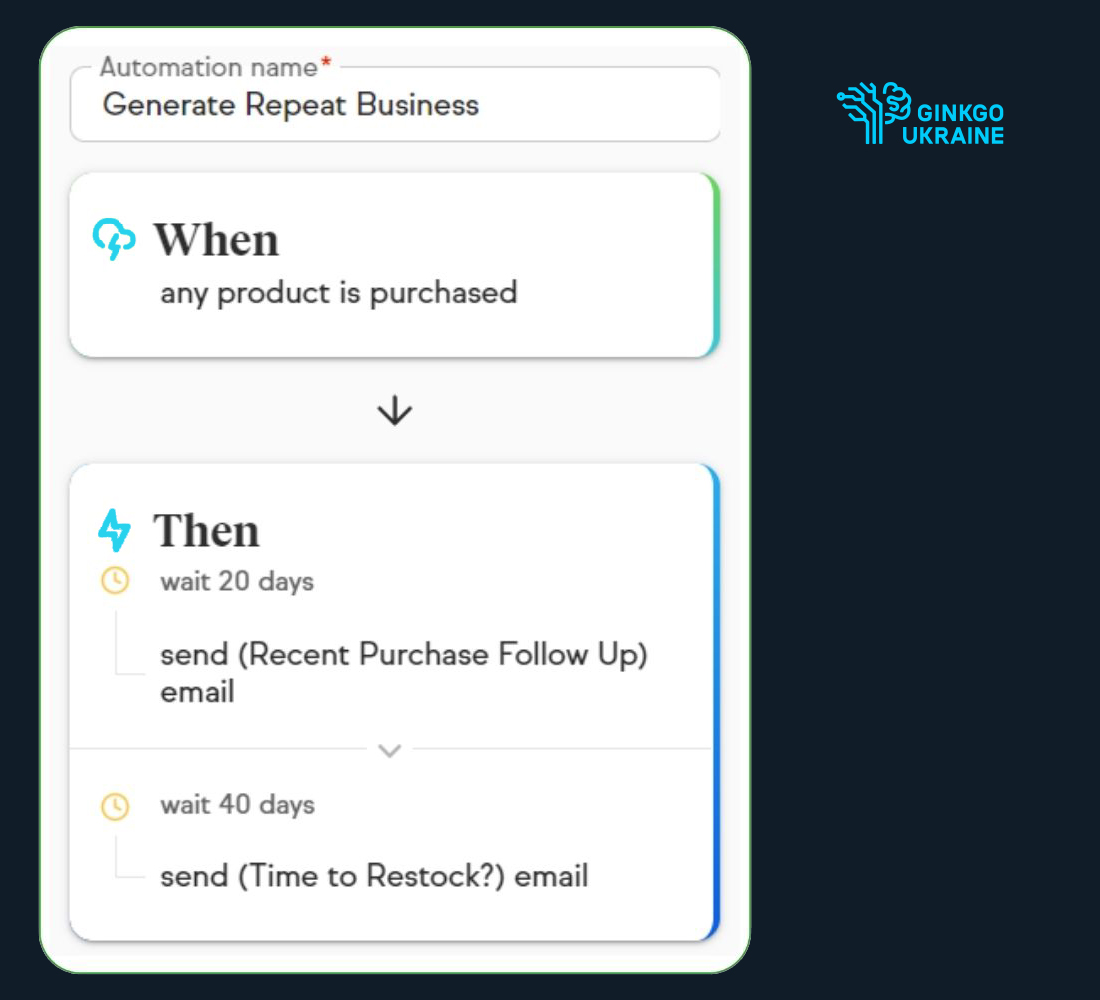 11. Remind Them about the Abandoned Shopping Cart
Two-thirds of customers abandon their shopping carts. There are tons of reasons, and one of them is that they just got distracted. For a business, it means no sale.
So, setting up a reminder in 30 minutes is a good idea. Address your customer, remind them about the order, and ask if help is needed. This small automation can help complete many orders.
12. Reminders about Failed Transactions or Credit Card Expiration
Automated payments are essential for online businesses, so we will not describe them in detail. However, we can offer a small hint regarding credit cards.
Sometimes your customers lose their cards, and sometimes they just expire. If you use a subscription model and collect payment regularly, pay attention to failed payments. Send an automated notification that the card failed. Sometimes you'll even help your client realize the card is lost or blocked.
Additional advice: you have the expiration date for every client's card. Send a notification to the client to update a card a month before a card expires.
More processes to automate in 25 Things Every Small Business Can Automate, Part 2!
Like this article